Here's a list of various renewals that the majority of companies will have to track.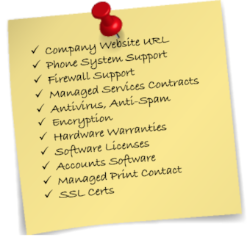 Do you know what you have and when it's due for renewal?
Antivirus
Firewall Support
Phone System Support
Domain Name registration
Backup Software
Various Hardware Warranties
SSL Certificates
Encryption Software
URL Filtering
Spam filtering
Databases
Load Balancers
Identity Management
2 factor authentication
Server Virtualisation Software
Remote Access Software
Microsoft License Agreements
CRM Systems
Bespoke Applications
Mobile Device Management
IT Security Products
SaaS subscriptions
Maintenance & Support Provider Contracts
And many many more……
Don't know when they are due? Make a guess at it as a reminder and make it accurate when you find the correct info!
Upload them all at once using our bulk upload option or one at a time. It's easy with www.supportrenewals.com.